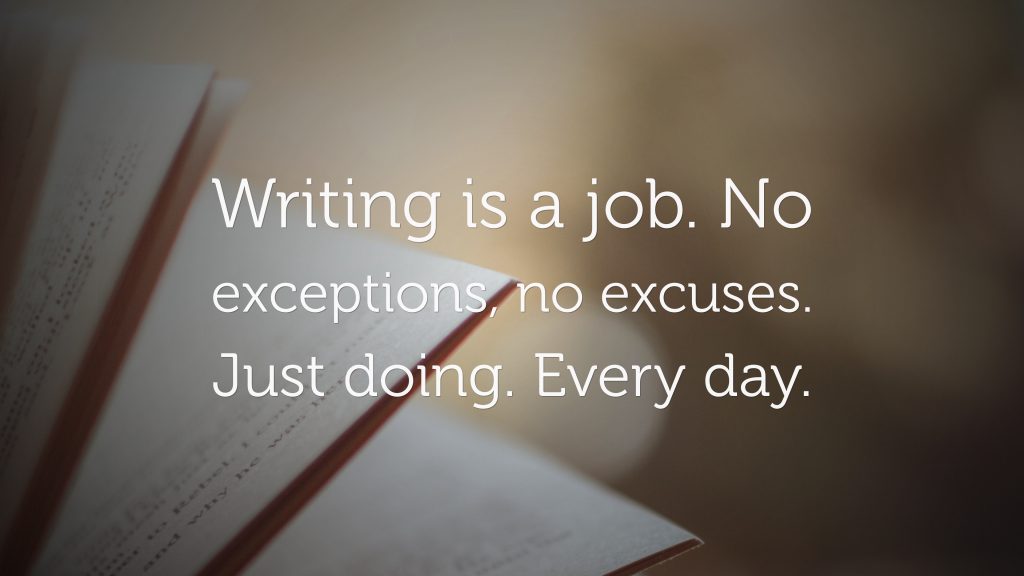 Writing a book sounds romantic, gazing over the roofs of Paris in a chilly attic room, slowly sipping hot black coffee. Fluttering curtains in the golden sunset. Sometimes it can even be that.
But writing is, above all, a job. It's work and routine. Toil and exhaustion.
You have to go to work like everybody else and do the time on the chair. It means having a set time and place – be it a home office, a café, or the kitchen table. So you put on your working clothes, sit down at the set time, and start writing. No exceptions, no excuses, just doing. Every day.
Sometimes the words will flow, pouring of you so quickly you can hardly keep up typing, the pages filling effortlessly. You're a gift to the world. Working is easy and pleasurable, and you can keep at it for hours.
Other times, you stare at the blank page and can hardly resist the urge to run. You write a few words, decide they're lousy, and delete them. You start again. How could you ever think you could write?
---
Time drags on. Lunch cannot come soon enough. Or any interruption, really. You're almost glad if something breaks. Then, suddenly, you're happy calling the plumber or the electrician for an emergency repair. Or grateful if the delivery man seems to have time for a chat. Anything to avoid looking at that blank page, the blinking cursor a silent countdown to an inexorable deadline.
But you keep at it, how uncomfortable you may be. You've learned discipline. You've learned that if you sit there long enough, something will happen. An idea, even a kernel of an idea, will appear, seemingly out of thin air. An image that triggers long-gone memories. Scenes from a distant past or a shimmering future. And you're in again. In the zone where fantastic things happen and writing is easy.
If you're not able to write, write about not being able to write. For a writer, everything is writing material. Even not being able to write.
Like this text.
---
Related Posts
---
If you liked this post, share it on your preferred social network or forward it to a friend.
---