So much for building my research database. I didn't make as much progress as I thought with it. I did get started as planned, but it's slow-moving.
Oh, there are reasons. Of course. There are always reasons.
We had to pick up the artworks we left for framing and pick frames for the next ones. Because of the pandemic, there's no drop-in, you have to make an appointment, and we cannot always control the timing. It seems everyone is framing pictures on Lidingö these days; the place is bustling.
The new desks for the home office were finally delivered, too, and I had to vacate the office to have them assembled, then re-decorate the room.
The cat had her final X-rays for her broken paw, and we had to go to the vet one more time.
We had a lot of home deliveries too.
The deer knocked off the bird feeders.
The dog ate my homework.
---
Life happens. There's always something, and if I have to wait until everything is in order to write, the right planets and stars aligned, I will get nothing done.
I have to work through all this. Despite all this.
I'm also plodding, like competing-with-a-tortoise. Once I pick up speed, and I've got going, it's smooth sailing, but I have a long start sequence. Too long.
The smallest disturbance or interruption derails me, and the restart is slow. I need to work on my attention and my focus. I was spoiled by working at home alone for over ten years, comfortable in my routines, and free to work and take breaks as I pleased.
With my husband working from home too now and sharing an (albeit large) room, I find the smallest interruption disruptive. I need to shift my mindset to allow that I'm no longer working alone instead of trying to recreate those ideal conditions that no longer apply. I realize now that I was set in my ways, trying to force this new life into the mold of my old one.
---
The last couple of weeks has been better, in fact. I try to compartmentalize things and think, "oh, new compartment," when there's an interruption. Then I get back to work by switching to the "work compartment." It does take a few minutes to shift my focus back to whatever I was doing, but it's better than the muttered resentment and the longer focus loss. It's still a work in progress, and I think I like the progress if you'll forgive the pun.
Anyway. I've started building my research database. Yawn. Before I started, I was looking forward to working on the reading list, because, you know, books! But once I started, the boring emerged, and I started to fantasize about reading those books, not merely writing a list. Why is the promise of future work more appealing than the work you're currently doing?
Mindset. It's all about the mindset. I need to work on the list so that I can read the books. As simple as that. Just do it.
---
By the way, do you know where that Nike slogan comes from? It's a pretty morbid story. Facing execution for murdering two people, Gary Gilmore's last words were, "Let's do it." That was 1977. A decade later, Dan Wieden, an advertising executive, pitched the slogan "Just do it" to Nike and, eventually, succeeded. The slogan, inspired by Gilmore's words, aired in 1988, and, at the time, struggling Nike became the sport and fashion giant we know today.
And here's another example of me going off on a tangent instead of working on my list. I admit it was far more rewarding checking the internet for a murderer's last words than working on my Excel file. Now I understand why people kill their internet and delete all the apps on their phones. I'm not sure I could go that far, but I'd better go back to work.
Do you know what happens if you type "go back to work" on Google? You'd see all these Covid-19 related regulations about returning to work after a lockdown.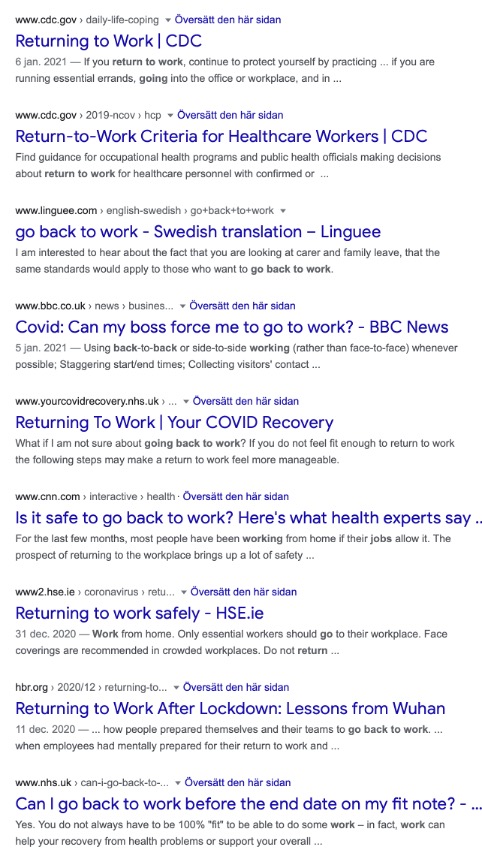 Right, I'll go back to work. For sure. Right away. Just give me a sec. Any time now.
---
Related Posts
---
If you liked this post, share it on your preferred social network or forward it to a friend.
---